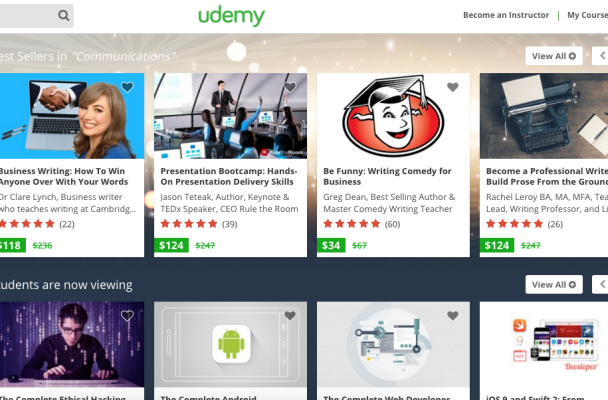 Yesterday's post looked at the value of teaching as a means of gaining a following for your new freedom business, but what should you offer as a course and where can you deliver it?
Virtual
If you have something that can be taught virtually using captures of your computer screen, videos or other interactive materials then there has never been a better time to teach either for a living or as a means to attract people to your business. Many people have realised a significant second income from what began as a means of gaining followers.
There are many options for this including setting yourself up as a teacher at Udemy, Skillshare or a multitude of other education sites.
You can also set up your own teaching courses on your website either by using bespoke scripts like Moodle or simply by setting up embedding instructional videos, pdfs etc on a page on your site.
Publishing
Write a book or guide and give it away as a free download or self publish it on Amazon, Kobo, Apple Store etc as a paid for physical or ebook.
Real World
Every small town has a community centre or learning hub. Call them and ask about delivering a course to locals. This is actually a great way to get clients if you are a web developer or designer. Teach people how to make their own website with WordPress for example and you will be able to charge for the teaching and gain new customers who want to continue to learn and expand their site.
There is a huge opportunity awaiting you to gain customers and teaching is a very good starting point. Most businesses worry about their customers learning to do what they do in the fear that they will lose them. In reality it is a great way to not only gain new customers, but also to start impressing them with what a great, supportive person you are, helping them to slowly but surely become advocates for your business.
Helping is Selling
If the thought of selling makes you queazy, don't worry, there is no need to sell as long as you can help. Helping people is all you need to do to sell your wares. The best helpers become the best sellers.
It's therefore easy to come up with a subject. To continue with my WordPress example, I wouldn't actually mention the name of the software unless I was asked specifically about it by a student, I'd simply promote that I will show them how to build their own website. This would be a paid for course and I would have their email addresses in order to help them.
On a local, hands on course, the outcome of this would be significant as I might gain a few customers directly and I would almost certainly gain referrals for future courses or for help with website development. However, if I delivered this virtually on my website or through a training hub like Udemy, I'd gain lots more contacts.
People still tend to use local developers for their website but remote or virtual training if they want to continue doing it themselves but need help.
Have a think about what and where you could start to teach and you will soon be teaching people to become advocates for your business.